"Pack your bags Fishwick, you're going on a trip."
"Pack your bags Fishwick, you're going on a trip." The written words from my manager indicating something interesting was on the horizon.
Ryan and myself were lucky enough to bag ourselves a trip to Bali for a week in early May of this year. We travelled for 17.5 hours over 7,800 miles from Birmingham to Denpasar (via Doha).
For some, a flight like this would be ominous and laborious, particularly for those having to fly "cattle class". Fortunately for us, we were treated to business class on Qatar airlines! The unlimited champagne, full length beds and a la carte menu from a celebrity chef really helped pass the time…
But why Bali? The trip was an initiative from our captain, Doug Scott. We were being shipped off to see how the Potential Team do it on the other side of the world, an opportunity to learn, share knowledge, be inspired, rejuvenate and, of course, have fun.
Potential Asia is a startup hub targeting business opportunities in Asia, currently focusing on growing a huge voucher code business similar to the one we run in the UK. The team work in an office situated in rural surroundings in the District of Ubud, an hour north of Denpasar, in the uplands of Bali. The office boasts iconic landscapes of rainforests, rice fields and temples. Ubud immediately highlighted itself as a special place rich in Balinese culture, yoga, amazing food and smart Tech guys.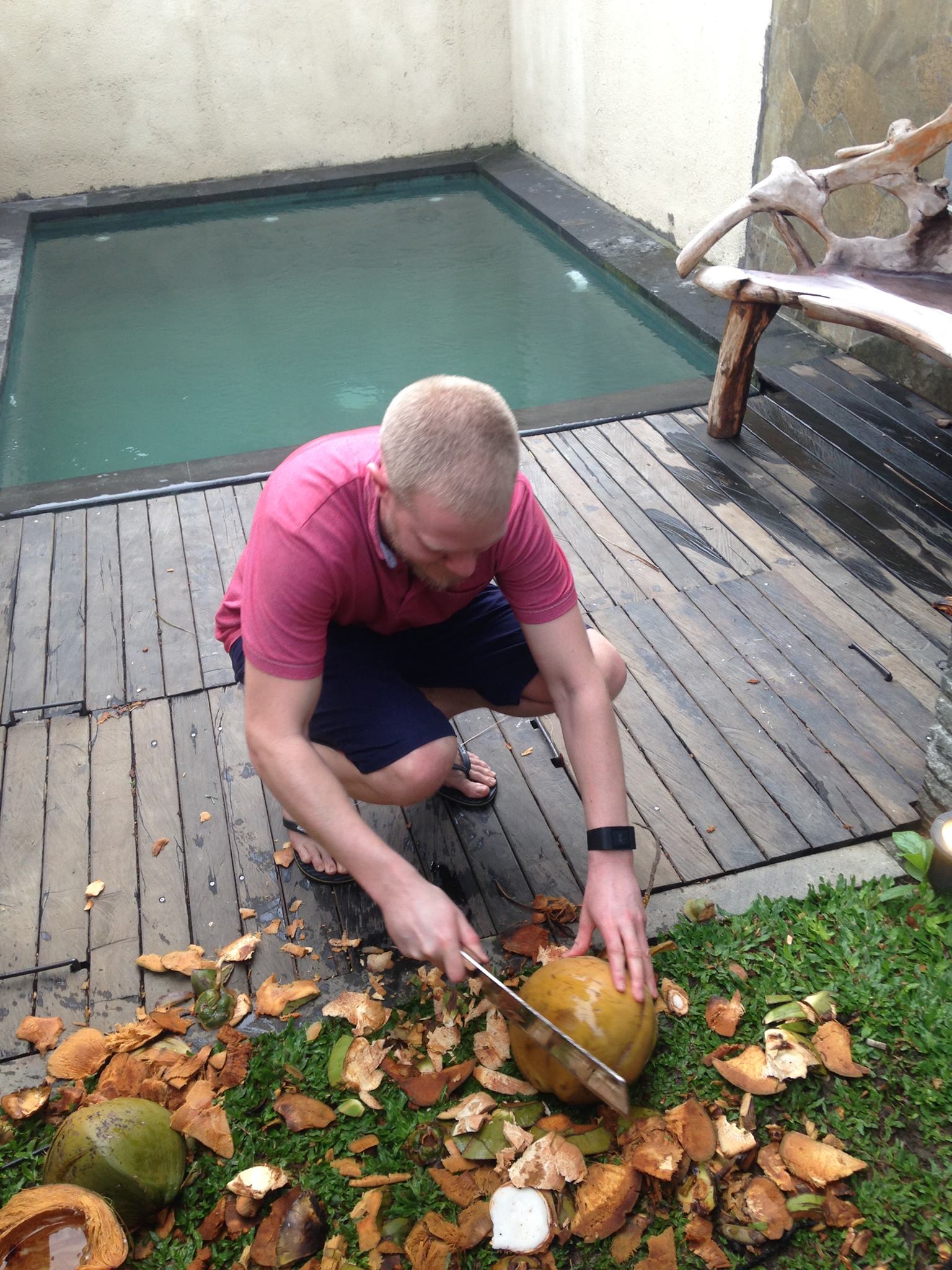 Our first full day started with a lunch meeting with Harsha, the man behind the madness. He briefed us on the business and directed us to the office where we met the extremely welcoming team. After being introduced as "Andy and Ryan from Potential Headquarters" we decided to get some refreshments. Forget vending machines, the Potential team in Asia enjoy countless coconuts on a daily basis. The only issue is you have to split them yourself – luckily we returned with all fingers intact.
It was amazing to meet such a diverse, multi-ethnic and multi-lingual team who appeared to thrive on their freedom to travel, work and soak up cultures. The office had relaxed working hours, but everyone still put in their best efforts to ensure all tasks were complete. Most of the team members worked as SEO's, some with zero experience and others with numerous years in the tech industry. They asked lots of questions on the UK businesses aspiring to achieve similar levels of success.
The team had daily standup meetings discussing what was done yesterday, what will be done today and what the weekly goal is. We shared state of the art tech ideas and discussed created traffic sourcing techniques, both paid and free. We also learnt about outreach for reputable backlinks through creating amazing infographics. Harsha hosts a 1 hour a week lecture on SEO to ensure the team stay ahead of the game.
We stayed in a luxurious villa called 2 bedroom Kadiga Villa with a private pool. The villa was not far from Hubud, a co-working space for travellers and startups. At the time, Jack and Holly from Potential UK were travelling and stopping in Ubud working alongside Potential Asia on some new projects. Hubud was a regular workspace for them so it was great to catch up.
The team in Bali were almost insulted that we had travelled all that way and were spending time in the office. They urged us to go and explore – so we did.
Our first attraction was the sacred monkey forest, a nature reserve and Hindu temple complex in Ubud. The forest covered over 27 acres, had over 115 different species of trees and approximately 605 resident monkeys.
The monkeys were extremely tame, however at times they could be aggressive. You were not to look at them directly in the eye. One of them ran off with my water bottle, unscrewed the lid and poured it all over the floor.
We also found time to visit the Tegenungen waterfall situated to the south east of Ubud. It's one of the few waterfalls in Bali that is not situated in the highlands or mountains.
We were able to head south to Kuta to ride the waves with Jack and Holly. Albeit with limited surfing skills, the day was great – although we unfortunately got wrongly stopped by the Balinese police for driving a scooter without an international licence. Nothing a bribe didn't sort out.
Ubud is known as the center for traditional crafts so we regularly visited Ubud Art Market, which is renowned for its handcrafted goods made from neighbouring villages. You may recognise the market from a scene in the Hollywood movie Eat Pray Love. Bartering was essential and expected.
Also famous for its dance, one evening we went to a Kecak fire dance. It consists of a choir of a hundred men or more sitting in concentric circles around fire chanting and swaying to music provided by the human voice. The dance tells an unfolding tale which at the time was incredibly hypnotizing.
On our final night we were invited to Harsha's house for dinner for some traditional slovak food, cooked by his girlfriend Lucia – which was amazing.
Overall, it was an incredible experience that has inspired me to travel more, work less (smarter) and enjoy the free and simple things in life. Thank you Doug :)